Exposure to high levels of air pollution can cause a variety of adverse health outcomes. It increases the risk of respiratory infections, heart disease and lung cancer.
---
ccording to the World Health Organization, the world gets hotter and more crowded, our engines continue to pump out dirty emissions, and half the world has no access to clean fuels or technologies (e.g. stoves, lamps), the very air we breathe is growing dangerously polluted: nine out of ten people now breathe polluted air, which kills 7 million people every year.
Air pollution is a major concern of new civilized world, which has a serious toxicological impact on human health and the environment. Even small amount of air toxicants is shown to be dangerous for susceptible groups including children and elderly people as well as patients suffering from respiratory and cardiovascular diseases. Here are the "Terrible 05" health risks from breathing polluted air:
Premature death: Science shows that both short-term and long-term exposure to unhealthy air can shorten your life and lead to premature death. The combined effects of ambient (outdoor) and household air pollution cause about seven million premature deaths every year, largely as a result of increased mortality from stroke, heart disease, chronic obstructive pulmonary disease, lung cancer and acute respiratory infections.
Asthma attacks: Breathing ozone and particle pollution can lead to increased asthma attacks. Small particles in the air can pass through your nose or mouth and get into your lungs. Airborne particles, found in haze, smoke and airborne dust, present serious air quality problems.
Cardiovascular disease: Air pollution can increase the risk of both heart attacks and stroke. Harmful air pollutants lead to cardiovascular diseases such as artery blockages leading to heart attacks (arterial occlusion) and death of heart tissue due to oxygen deprivation, leading to permanent heart damage (infarct formation).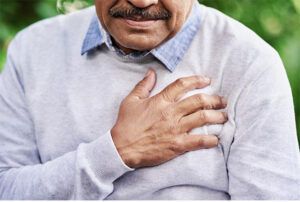 Wheezing, coughing and shortness of breath: Like many of the other conditions in this list, these can be caused by both long-term exposure and short-term exposure to high levels of air pollutants. When ozone is breathed in, it can harm the lungs. This can cause chest pain, coughing, shortness of breath, and throat irritation.
Lung cancer: In 2013, the World Health Organization determined that particle pollution can cause lung cancer, which is the leading cause of cancer-related death in the U.S. The IARC reviewed thousands of studies on air pollution and found that exposure to air pollution increased the risk of lung cancer and bladder cancer. Depending on the level of exposure, the risk may be equivalent to breathing secondhand tobacco smoke.