Health & Environment Times Post/ 12.07.2021/New Delhi
---
he ears are the most visible part of the human hearing system. Taking care of your ears is important in many ways. Once your hearing is damaged, it's gone for good. Ear hygiene is important, but so is safety from noise and injury. Because of the ways that our bodies are connected, certain illnesses can make ear infections or hearing loss more likely. In addition, your ears can be affected by side effects from medications.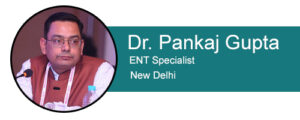 RIGHT WAY TO PROTECT YOUR EARS
Ear protection helps to protect your hearing from damaging noise that may be present at any given time around you. Here are some important ways to protect your ears and your hearing health.
KEEP YOUR EARS DRY: You just finished a swim or shower. Do your ears ever feel clogged? Are sounds muffled? You may have water in your ears. Excess moisture can allow bacteria to enter and attack the ear canal. You can also ensure that your ears stay dry and healthy by using custom-fit swimmers' earplugs, which block water from entering the ear canal. They're great for adults and kids alike, and they work wonders in preventing swimmer's ear.

USE EARPLUGS AROUND LOUD NOISES: The effect of noise on hearing depends on how loud it is (sound intensity) and how long it lasts (duration). Approximately 15% of Americans have noise-induced hearing loss because of loud work or leisure environments. To help prevent noise-induced hearing loss, wear hearing protectors to limit your exposure to potentially damaging sounds.
STOP USING COTTON SWABS IN YOUR EARS: Cotton swabs may seem harmless enough, but they can be dangerous when used to clean your ears. It's common for people to use cotton swabs to clean wax out of their ear canal, but this is definitely not advisable. Using a cotton swab like a plunger in the ear canal pushes earwax deeper and deeper in. One problem is that if you push the wax deeper inside, there's no way for the wax to get swept out of the ear.
 

MANAGE STRESS LEVELS

: Many of the people cope with high levels of stress and anxiety, which are linked to a variety of health problems. Long-term, the physical changes from chronic stress can even trigger hearing loss and other inner ear problems. When you are constantly stressed, the body doesn't receive a clear signal to return to normal like it does when the stress is acute or traumatic. This process puts a lot of pressure on your nerves, blood flow, body heat, and more. It's commonly thought that this pressure and stress can travel up into your inner ear and contribute to tinnitus symptoms.
GET THEM CHECKED: Many people assume that hearing tests are for people who have a problem, just as vision tests are for people who have difficulty seeing. But a hearing screening doesn't just discover hearing loss; it can uncover many physical and medical issues that you may not have known about (and which may not present any symptoms). Ask your primary care physician to incorporate hearing screenings into your regular check-ups. Because hearing loss develops gradually, it's also recommended that you have annual hearing consultations with a hearing healthcare professional. Left untreated, hearing loss has been linked to other health problems including depression and dementia.